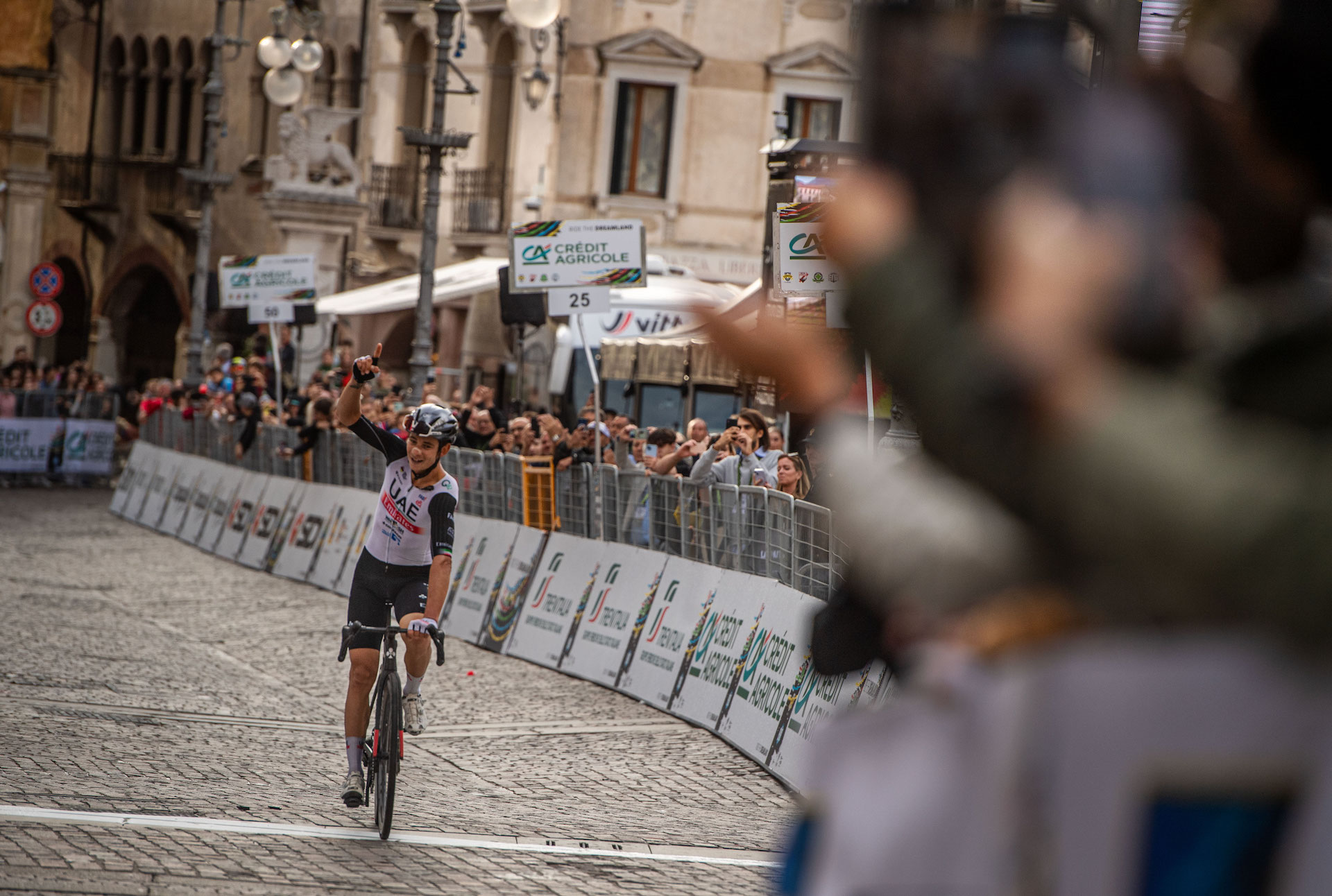 Bassano del Grappa – For the second year in a row, the world's number one-ranked team, UAE Team Emirates, turned the Veneto Classic into a demonstration of their collective might, as a late attack on the Contrà Soarda climb launched Davide Formolo to a solo victory ahead of team-mate Marc Hirschi and Jayco-AlUla's local boy, Filippo Zana.
As expected, the 196.2km race had turned into a war of attrition over the spectacular, undulating course through the hills around Bassano del Grappa – including four ascents of the Rosina climb and the Tisa 'wall', plus the Diesel Farm gravel section. Born in Negrar, just a few valleys to the west of Bassano, Formolo is a former Giro d'Italia stage winner and runner-up in two of cycling's toughest and most historic one-day races, Strade Bianche and Liège-Bastogne-Liège – but today's is the most prestigious one-day race victory in the 30-year-old's career.
"It was just a wonderful way to end the season," Formolo said after the podium ceremony. "I actually had a problem on the Diesel Farm climb – I lost grip for a moment there, on a corner, and that cost me 10 or 15 seconds, but I was feeling great so I was confident that I could come back to Zana and Hirschi. After that it was just about using our advantage."
Of his race-winning attack 4.2km from the line, Formolo added, "The plan all day had been to stay near the front then go all in on that last climb, which is what I did." Widely rumoured to be leaving UAE for another team in the coming weeks, Formolo hinted that speculation may be true…but stopped short of confirming the reports, referring only to a 'wonderful way to end this amazing period before I go on holiday!'
The race had started in Mel (Belluno) on a poignant note, with both spectators and riders applauding in honour of the late Davide Rebellin, whose last ever race was the 2022 Veneto Classic. It was also time for the peloton to bid farewell to three colleagues who were ending their careers today – Manuele Boaro (Astana Qazaqstan), Liam Bertazzo (Malaga Pushbikers) and Francesco Gavazzi (Eolo-Kometa) – with a guard of honour.
Once the racing was underway, three riders escaped on the largely flat first section of the course alongside the Piave river – Michael Belleri (Biesse-Carrera), Joey Rosskopf (Q36.5 Pro Cycling Team) and Marco Frigo (Israel Premier Tech). Their advantage would stretch to over six minutes before the first of four ascents of La Rosina. Bassano-born Frigo had the advantage of local knowledge – plus the vociferous support of his fan club at the roadside.
The trio of leaders would remain together for all four Rosina climbs and laps one and two of the La Tisa quadruple. Behind, a counter-move had formed as the main peloton approached La Tisa for the second time – Milan Menten (Lotto-Dstny), Erik Fetter (Eolo-Kometa) and Natnael Tesfatsion (Lidl-Trek) punching clear. They were then joined by Stefano Oldani (Alpecin-Deceuninck) and Formolo. The five counter-attackers would duly catch Frigo, Belleri and Rosskopf as they approached La Tisa for the third time. Meanwhile, the main peloton was closing fast, just 15 seconds behind with 30km to go.
A third helping of the Tisa's savage, Flandrian-style cobblestones and 20% ramps saw the cream begin to rise to the top – and soon a new lead-group including several of the pre-race favourites had formed: Oldani, Trentin (UAE Team Emirates), Formolo, Tesfatsion, Charming (Uno-X) and Cosnefroy (AG2r Citroën).
That, too, proved short-lived – and the final ascent of the Tisa saw more attacks and more ambitions shredded but ultimately no decisive, race-winning move. It was therefore a group of around forty riders that led onto the lower slopes of the Diesel Farm – one that quickly began to fracture as another local boy, Zana, powered away at the front, with defending champion Hirschi giving chase.
Having crested the climb together, that pair were out of reach to all except Formolo, who joined them at the bottom of the descent. One uphill section remained – Contrà Soarda – and there it was Formolo who broke Zana's resolve, striking clear while Hirschi played loyal team-mate and policeman on Zana's rear wheel.
As was the case a year ago, UAE's power in numbers had proved irresistible: just like in 2022, Formolo and Hirschi would finish first and second, only this time in the opposite order. Fourteen seconds was Formolo's final margin of victory, while Hirschi comfortably edged out Zana in the sprint for second.
Two home-region heroes on the podium, then – Formolo and Zana – and two more among the first six riders over the line, with Andrea Vendrame (AG2r Citroën) and Samuele Battistella (Astana Qazaqstan) fourth and sixth respectively. A Veneto Classic and a classic edition for the 'veneti', in other words, and also an exclamation point at the end of a third Ride the Dreamland series that has delighted PP Sport Events founder Filippo Pozzato: 'I'm very happy with how it all went – but it's more important that the fans and the riders are happy. Today there was a bit of rain, which actually ended up making the race a bit more spectacular. But, yes, I am satisfied – because the whole idea behind this series is to entertain people and create something that's fun for them. Next week we'll debrief and look at what didn't go perfectly, because that will tell us how we can improve. We want to develop and get bigger and better.'
Below are the reactions of second-place finisher Marc Hirsch (UAE Team Emirates) and Filippo Zana (Jayco-AlUla).
Marc Hirschi (2nd): 'For us it was a perfect race like last year. I mean, we had two guys in the front and then we played our cards – we couldn't wait for the sprint. I was a little worried when Zana attacked on Diesel Farm but, in the end, I paced myself really well. I was going full gas, on the limit, but I was still confident. At the end, I actually didn't have a radio, so I didn't know how far back the group was, although it looked as though the gap was quite big. The plan then was for us to just keep attacking until one of us got away – and it just happened to work with Davide. Today just confirmed to me that I really like this course and it suits me really well. Knowing it also helps, especially on the Tisa. There it really helps to start the cobbles right at the front, in the first three positions. Overall I'd say it's a very beautiful course and race. The Tisa and the Diesel Farm gravel sections are hard but they're clean, plus everyone's in ones and twos at that point, so it's safe. I think the riders all really like racing here.'
Filippo Zana (3rd): 'On Diesel Farm I tried and it was looking good, but with two riders that strong chasing me it wasn't easy. Overall, though, I'm satisfied with this third place and the good season that I've had, particularly the first half. I've had a bit of bad luck since then, first breaking my collarbone and then with stomach problems at the Vuelta. But I've settled into the team really well, I've definitely gone up a level and I hope to improve even more next year. Now I'm off to the beach, though!'